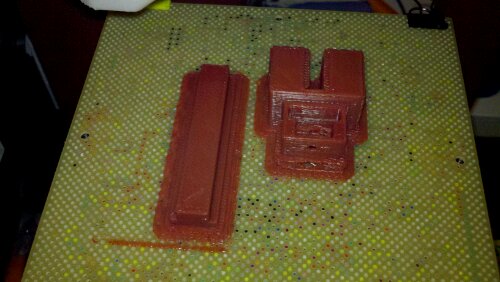 I don't know how far apart the wheels will need to be.  So instead of printing out something with exact (and incorrect) measurements, why not make something adjustable?  This will let the motors slide, then get locked into place when I find the right spacing.
The cardboard tube didn't cut it.  So why not just make a tube to my specifications?  What else did I buy a 3D printer for?
One clockwise, one counter.
Plus a ping-pong ball.
The motor ended up getting flung further than the ping-pong ball.
Hmmm.  Needs work.
Got the wheels off with a soldering tip and a lot of force.  Stuck the motors in the box, then promptly put the wheels right back on…
Apparently those wheels have a really good grip on the motor shaft.  Now I can't get them loose.  Which is a bit of a problem, since I have to get that motor into a case with a small hole for the axle to fit through…
I haven't done a Crazy Weekend Project lately. 
It's a long weekend.
Therefore, let's try to build a robot army.
Or at least one robot with a weapon.
If you count a Ping-Pong ball shooter a weapon.