Game #17: Shark! Shark! – Intellivision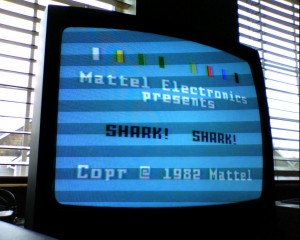 In Shark! Shark!, you're a small fish in the big ocean.  You'll be eaten by any fish that's bigger than you, but you can eat any fish that's the same size or smaller.  You get bigger by eating a number of smaller fish.
Then there's the shark.  He'll eat you.
You can nibble on the shark's tail, you you want, but be warned:Â  The shark does not like that…
The Intellivision controller actually works in this game's favor.  You can slide it smoothly around in a circle and your fish will follow.  You can also dash, which is the key to avoiding becoming dinner.
Shark! Shark! is the sort of game that belongs on the iPhone, if it isn't already.  It's uncomplicated and addictive.  And it's got a catchy tune.