Game #9: OutRun – Sega Master System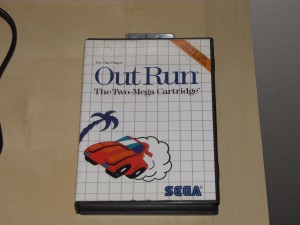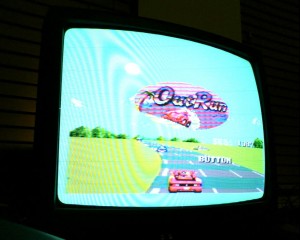 OutRun is a bit like RoadBlasters with all of the Spy Hunter bits removed.
It's a race against time through the European countryside.  Start on the Riviera, then drive through Stonehenge, the Alps, a forest, even the Windmills of the Netherlands.
At least, I think that's what this is supposed to be.  It's hard to tell.  This isn't the best arcade translation ever made.  The graphics in this version suck.  The fork in the road had more flicker than an Atari Pac-Man ghost.  And when you flip the car, the driver and passenger vanish.  How can it be OutRun if the blonde doesn't hit you for flipping the Ferrari?
The music is recognizable, but I've heard better versions of it.  However, Magical Sound Shower is still Magical Sound Shower which is seven different kinds of awesome in almost any version.