Game #11: Golden Axe Warrior – Sega Master System
I'm not really going to be playing Golden Axe Warrior.
I've already played it, several times.
I'm mentioning it here because it is purified awesome encased in plastic.
It is the lost sequel to The Legend of Zelda.
It is a pure, unashamed rip-off of the original Zelda…Â  And that's what makes it so good.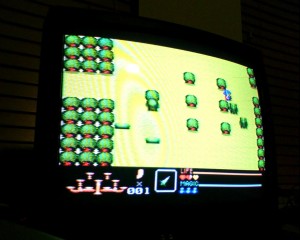 Most games try to "Innovate" or change the core gameplay, so that they're like Zelda, but not an exact copy.  That usually just ends up making the game suck.  GAW didn't take that route.  They saw that Zelda worked, they saw why Zelda worked, and they stole it all.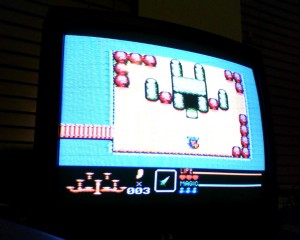 There's a series of underground dungeons, with a magic item and a slice of Ultimate Power protected by a boss in each one.  There's doors locked by keys.  You slowly upgrade your weapons and armor (And you change color when you do).  There are even secrets hiding in trees and pig-faced arrow-shooting enemies.
There are also some additions, like a boat, a few villages scattered about, and an item that will help reveal secrets.
All in all, this game is what Zelda II should have been.  If you haven't played it, go find it and play it right now.  It wasn't on the Virtual Console the last time I checked1, but I think it was part of the Ultimate Genesis Collection for the XBox 360, available in bargain bins everywhere.
Can't imagine why not… [↩]