MISSION ACCOMPLISHED
I didn't even have to try.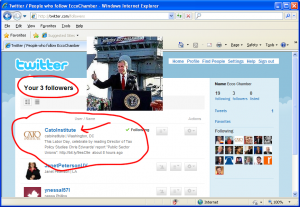 I just signed up for an account, said "America!  Woo-hoo!", and already the Cato Institute is following.  I haven't even started the application yet.
Of course, this adds an interesting wrinkle to the puzzle.  See, I was proposing a Turing Test wherein the measure of success would be if unsolicited people started following the chatterbot, but I wasn't expecting that the followers themselves would present me with a Turing Test.