Electric Curiosities: Neo Geo AES Cartridge
This is a Neo-Geo AES cartridge:
What this picture fails to show is the scale of this cartridge.  Just looking at it, you might think that the cartridge is roughly the size of a Super Nintendo cart.
You'd be wrong.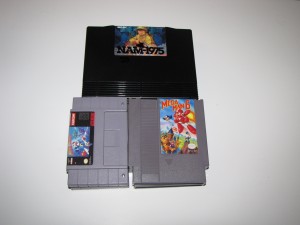 It is, in fact, roughly the size of TWO Super Nintendo cartridge stacked together and placed next to TWO NES cartridges.  Seriously.  They're that massive.
And I thought that the Fairchild Channel F carts were bulky…